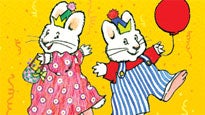 Piff Paff Poof, Lower Ossington Theatre, Last shows this weekend (March 26th &  27th)
Max & Ruby, Sony Centre, April 16th (& April 9th in Oshawa).
Bugs Bunny & the Symphony, Sony Centre, April 9th.
Bugs, Birds & Butterflies, Toronto Symphony, May 14th.
Madagascar Live, Sony Centre, May 26th.
The Absolutely, Positively, Completely Made Up Show, Second City, Saturday mornings (11am)
The Harlem Globetrotters, Rogers Centre, April 8th & 9th.
Check out the upcoming plays at the Lorraine Kimsa Theatre for Young People as well as the Solar Stage Theatre.