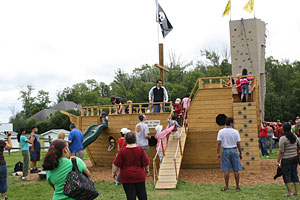 Downey's Farm is having an Easter Fest this weekend and during Easter.  Enjoy an egg hunt, puppet show, magic show and face painting.
Toys R Us Bunny Build takes place on Saturday from 12-2pm.  Toys R Us stores all over Canada are inviting kids to build their very own Easter bunny out of Lego for free.  For more info call 416-306-6712
Max & Ruby will be at the Sony Centre on Saturday.
PawsWay Toronto (located in Harbourfront) is having a weekend event where people who like/want to own a puppy or kitten can come gather info and speak to experts.  Puppies and kittens will be on hand so this might be fun for the kids.
Help plant 2,000 trees at Downsview Park this Sunday to celebrate Earth Day!
Sunday is Teacher Day @ The Toronto Zoo.  That means that if you have an OCT card, you and a guest get free admission.  If you don't like teachers, don't go to the zoo this Sunday.