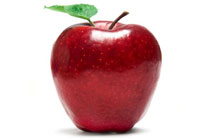 As I walk down the aisles at the supermarket, the organic section makes me uncomfortable.  I don't know if to buy organic.  In life, I gravitate towards an  "all or none" approach…so if I buy organic fruits, do I also switch to organic meats?  If I don't buy organic, does it mean that I don't care enough about the health of my family?  If my kids eat organic fruits, will the benefits get canceled out by the radiating antenna in my neighbourhood?  All these questions run through my mind and I don't really know what to do because toxins come at us from so many places and we can not protect our children from everything.
I did receive a helpful list last week from EWG*.  It is a shopper's guide to pesticides in produce and it outlines which fruits and vegetables have the most pesticide residues and are the most important to buy organic.  I know that I can reduce my family's exposure to pesticides by using this list if I don't want to go "all the way".
*EWG is the Environmental Working Group and somehow, I got on their mailing list and they send me all kinds of scary information about toxins.  It's a good thing they are trying to do.  They are not out to make me crazy.  The non-profit organization has two important  goals:
1. To protect the most vulnerable segments of the human population children, babies, and infants in the womb from health problems attributed to a wide array of toxic contaminants.
2. To replace federal policies, including government subsidies that damage the environment and natural resources, with policies that invest in conservation and sustainable development.
It's all good (what they are doing) and bad (the world).